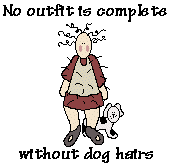 We are the proud human parents of 4 canines, Leroy, Little Bit, Angel, and Whisper. (Leroy is a pitbull cross, about 1 year old, whom we adopted from our Humane Society. Angel is a full bred pit bull. She was abandoned a few months ago, along with a male pitbull mix, whom we named Whisper.
LEROY (below)
is a pitbull cross that we adopted from our local shelter in 2005, after having lost our Missy Anne. He had been a resident of the animal shelter for many months before we found him. We took him home, where he settled in quite comfortably. LEROY (named by the shelter) is not an affectionate dog, but does have his moments of wanting to play with his human parents.
We're not sure of LEROY'S age, but it was guessed to be about 2-3 years when we adopted him.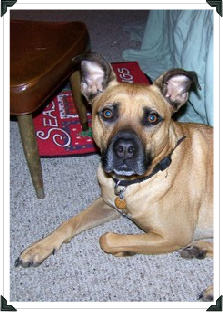 This is LITTLE BIT. (below)
As one of Violet's treasures (See Violet's page), came to stay. We never learned where he came from and after Violet's death, we decided to keep him. He's been a permanent fixture around our house for a little over 3 years. He's young and fiesty and thinks he's a saint bernard and rottweiler all rolled into one. He's been a lot of fun and he's a total "Daddy's boy!" We're glad he came to stay!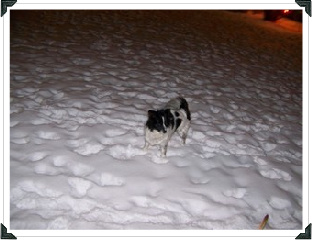 Meet WHISPER. (below)
He's a pitbull cross who wandered into the neighborhood, along with his companion, Angel. It was a cold and snowy Februrary day when we noticed the about frozen duo in the street. Hubby and myself looked at one another as if to say, "Here we go again!" When we went out to retrieve the half-frozen dogs, we noticed that they were very skinny, with hip bones and ribs showing. The female - Angel - had recently had puppies and her nipples were literally caked with icicles.
We first tried giving them a blanket to lay on, but WHISPER didn't want any part of that. Angel loved being under the blanket, however. We soon invited them in for treats of warmth and food.
No one claimed these poor souls and I'm sure I wouldn't have allowed them to go back to the original owners, anyway. It was obvious that they had not been well cared for.
We had found another home for WHISPER, but he kept escaping and coming back to us. His new family just gave up on him and so he stayed with us - his forever home.
WHISPER minds very well, but he's a little on the shy side. He loves to play tug-of-war with me or with Angel.
WHISPER has a teddy bear and he nurses on the bear's nose or legs when he goes to sleep. We have no idea why he does this and I've never heard of any other dog ever having done so.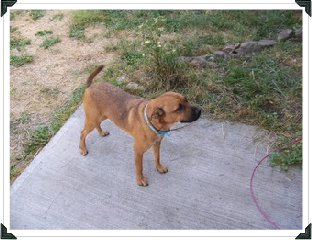 And here's ANGEL! (below)
To learn how we became ANGEL'S pet parents, read WHISPER'S story above.
I wish everyone in the whole world could meet our beautiful pitbull! So many minds would be changed about this awesome breed! We tell everyone who has never met ANGEL that when they first come to the door, ANGEL will greet them. She'll knock them down (she's 53 pounds and all muscle) and then she'll lick them to death. ANGEL would not hurt a flea on her own back.
She's hyper, as most Pitbulls are, but that's what keeps us so entertained. She is certainly a delight and there's no regrets of our keeping her. Her favorite games are playing ball and tug-of-war. She and LEROY have become soulmates.